Help us make a difference
Each year Zig Zag faces ever increasing demands for our services and even though we receive funding from the Department of Child Safety, Youth and Women and the Department of Housing and Public Works, we struggle in an environment of increased need with depleting resources. Please dig deep and generously to assist Zig Zag's committed workers in their continued support of young women at risk in our community.
Zig Zag is a registered charity. Tax deductible donations may be made directly:
Zig Zag Young Women's Resource Centre Inc
575 Old Cleveland Road
Camp Hill QLD 4152
Donations can also be made via the Give Now website.
Key areas of expenditure for funds donated are:
Emergency relief support – food vouchers, go cards, and phone credit

Therapeutic counselling resources

Library books and resources

Independent housing support – household items, kitchen utensils, linen, laundry items, whitegoods, and furniture

Therapeutic resources used in counselling

Community education – information resources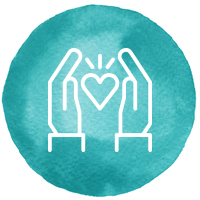 Sexual Assault
Support Services
Seeing a Zig Zag counsellor could make
all the difference.
Housing
Support Services
We assist young women who are homeless or at risk of becoming homeless.
Community
Education
Education and professional training on issues relating to young women.